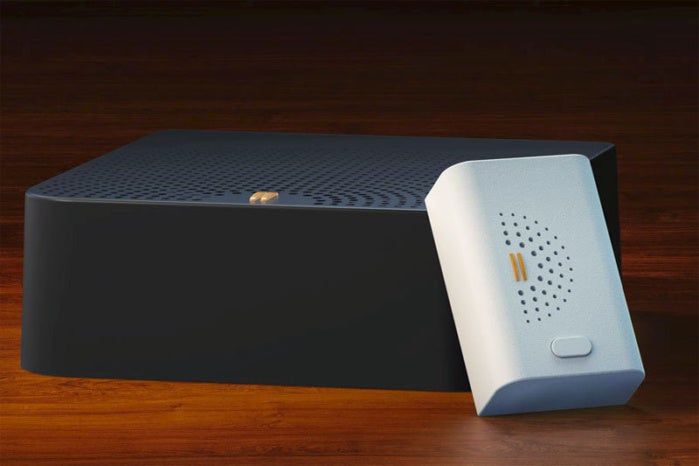 Some backstory: WallyHome was originally a product developed by a Seattle startup called SNUPI (an acronym for Sensor Network Utilizing Powerline Infrastructure). The company was focused exclusively on water leak detection, and while the product got rave reviews, it didn't take off, and the company ended up selling its technology to, of all places, Sears.
Three years later, Wally is back on the market, redesigned, upgraded, and priced to move at $99.99 for a starter kit that includes the hub and one sensor, and $34.99 for each additional sensor.
First, Wally remains foremost a water leak detector. Out of the box, you can drop a Wally sensor anywhere and if it detects a water leak it plays a fairly soft chime through an integrated speaker. It won't stop until you clear the water from the contacts on the bottom of the sensor or press the mute button on top. If all you want is an alarm that goes off if the toilet overflows, this is a simple and affordable way to get the job done.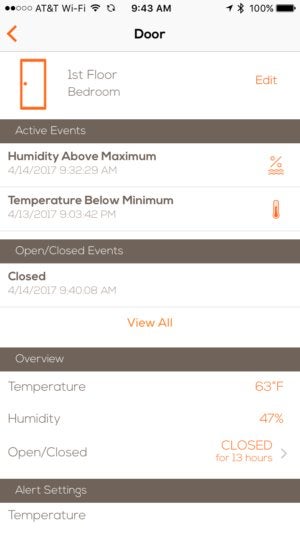 But the WallyHome system can also be configured to work with a more traditional smart hub that expands what the sensor can do. The Wally hub is a rather industrial-looking box that connects to your router via ethernet. (It can also be set up wirelessly, though the instructions guide you toward a wired configuration.) It's a traditional setup affair: Plug it in, download the app, register an account, and you're ready to start setting up sensors. (Or rather, sensor, as the starter kit only includes one sensor in the box.)
Much like the sensors on the Notion home monitoring system, Wally's sensors can do multiple duty, though they're limited to three measurements: temperature, humidity/water, and, when attached to a door or window with the magnetic add-on, whether it is open or closed. Place them in the corners of the bathroom if you're concerned about leaks, stick them in the attic or basement if humidity is a concern, or attach them to doors and windows for simple security needs. Each sensor is powered by two easily replaceable AAA batteries. (The hub also includes battery backup in case of power outages.)
[Source"timesofindia"]