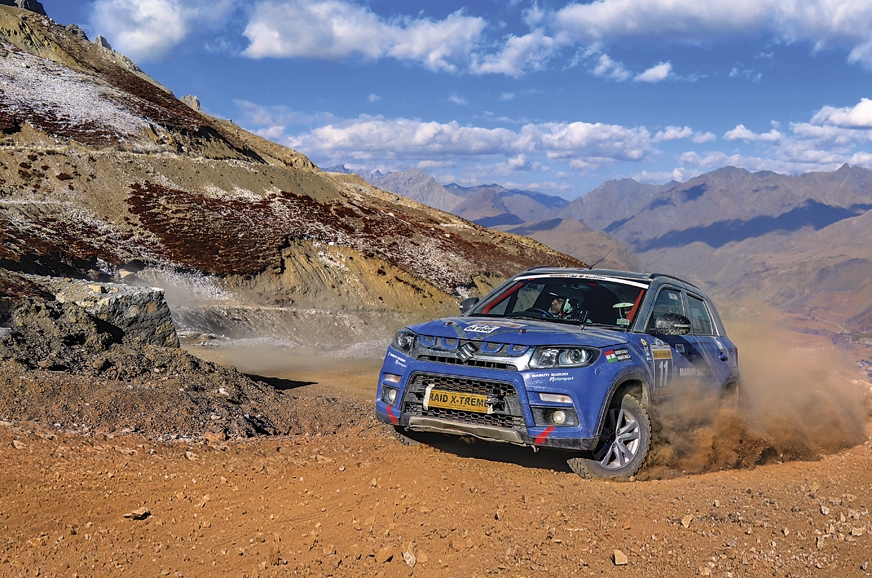 The Maruti Suzuki Raid de Himalaya is inarguably the toughest rally in India. It's been on for 19 years now, and each year is the same: rugged and uncertain terrain, bone-chilling, sub-zero temperatures, high altitudes and some of the most gorgeous scenery this country has to offer. This time around, though, there was one major difference: there was a new factory team, dressed in dynamic, hard-to-miss blue-and-silver livery. After years of racing factory cars successfully, Maruti Suzuki has united its motorsports efforts under Team Maruti Suzuki Motorsport. The 19th Maruti Suzuki Raid de Himalaya marks the debut of this new team, and boy did they make a show!
The Maruti Suzuki Raid de Himalaya takes place annually and spreads over roughly a week. It is divided into two formats – Adventure and Xtreme. While Adventure is a time-speed-distance (TSD) rally that requires participants to maintain average speeds throughout the route, Xtreme is a more challenging time trial rally. Participation is open to riders and drivers alike, as well as to cars and bikes of all makes and models as long as they meet certain safety requirements.
The Xtreme rally boasted participation from several individuals and teams. TVS Racing entered with a bunch of off-road-specced RTR 450s and RTR 200s, while Team Maruti Suzuki Motorsport came in with cars ranging from the tried-and-tested Grand Vitara and Gypsy to everyday heroes such as the Ignis, Vitara Brezza and S-Cross. The Army Team also came in with a handful of bright orange Gypsies. Individual entries included a range of Gypsies, a Pajero Sport, a few Grand Vitaras, a Swift and even an Esteem.
The Maruti Suzuki Raid de Himalaya this time around consisted of eight stages, starting in Manali and making its way through Spiti Valley, Leh and Ladakh before hosting a few stages in the Kargil area. The first stage started in Lahaul, Himachal Pradesh and went on till Kaza in Spiti Valley. Characterised by absolutely battered roads – if those trails could be called roads at all – this stage witnessed the downfall of many riders, drivers, cars and motorcycles. The rest of the stages were completed in the Jammu and Kashmir region, with the number of cars reducing steadily, stage-by-stage. The Xtreme category started off with 24 cars, but the competition had filtered down to around 10 cars by the fifth day, itself.
There is a common phrase that bounces around the Maruti Suzuki Raid de Himalaya circles: "The Raid is not about competing, it's about completing." It is a survival challenge for men and machines. Cars, bikes, drivers, navigators, riders, marshals and stewards alike, are all put through a gruelling week and only the most resilient emerge out the other end. The vehicles in the Maruti Suzuki Raid de Himalaya are subjected to nearly a week of driving/riding over the country's harshest terrain, ranging from dry deserts to rocky riverbeds. Climatic conditions don't quite help (temperatures were regularly dipping below zero degrees, Celsius) and nor does the thin air at these high altitudes (around 17,000 feet). For a car to make it through, it has to be tough as nails, reliable, practical and well-built.
In this light, the performance of the Vitara Brezza and S-Cross is most commendable. On the outset, including front-wheel-drive everyday heroes such as the Ignis, Vitara Brezza and S-Cross in the Xtreme format seems foolhardy. This is the domain of rough-and-tough four-wheel-drive SUVs, after all. But then you pick up the result sheet and your eyes focus on the words 'Vitara Brezza' and 'S-Cross' in the fourth and sixth lines respectively. These cars, heroes of us everyday drivers, have managed to beat turbo-charged Gypsies and other bigger SUVs to the finish line. Their virtues, namely reliability, practicality and build quality, have enabled them to make it through six days of driving over some of the nation's most challenging terrain in reduced atmospheric oxygen and sub-zero temperatures. It was, in fact, inspiring to see these cars braving the elements. In our regular lives, we see them plying urban streets, ferrying men and women to work, children to school and families to vacations. Here, however, they were gunning down dirt trails, splashing through canals, making their way through ankle-deep sand and climbing boulders.
After six challenging days, no one was surprised when Suresh Rana from Team Maruti Suzuki Motorsport won the 19th Maruti Suzuki Raid de Himalaya by a whopping near-51-minute lead. We had, after all, seen him outrun all his competitors day after day. This was the 11th Maruti Suzuki Raid de Himalaya that he had won – and that is no small feat.
Also critical to the success of Team Maruti Suzuki Motorsport was its support crew. After every stage, the service and support crew toiled over the cars, replacing worn parts and correcting mechanical problems that had popped up over the course of the day. In the words of Suresh Rana, "Our service crews have worked hard on all Team Maruti Suzuki Motorsport cars around the clock. Service is the backbone of this rally." A strong service back-up has long been a mainstay of the overarching Maruti Suzuki philosophy, and it shows in Team Maruti Suzuki Motorsport's approach to rallying, too.
The 19th Maruti Suzuki Raid de Himalaya concluded successfully and – most importantly – safely. The nation's toughest rally, in the words of one marshal, "makes grown men cry" and we could see the truth in that. The Maruti Suzuki Raid de Himalaya is physically and mentally demanding for the cars/bikes and their drivers/riders. It takes a special breed of men and machines to endure this rally and Team Maruti Suzuki Motorsport has proved to all that they've got these men and machines, all under one blue-and-silver umbrella.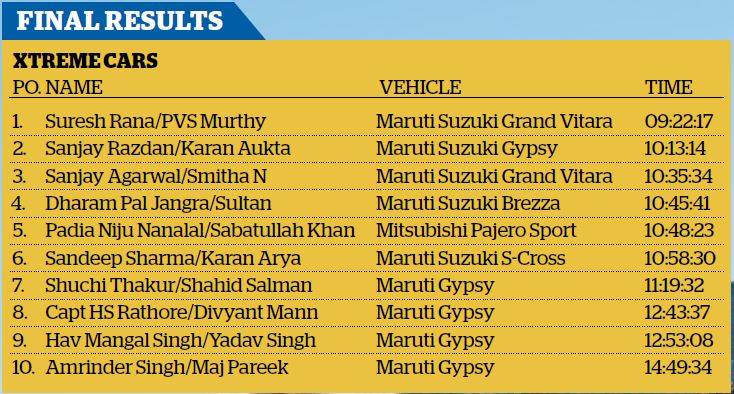 Copyright (c) Autocar India. All rights reserved.
["Source-autocarindia"]