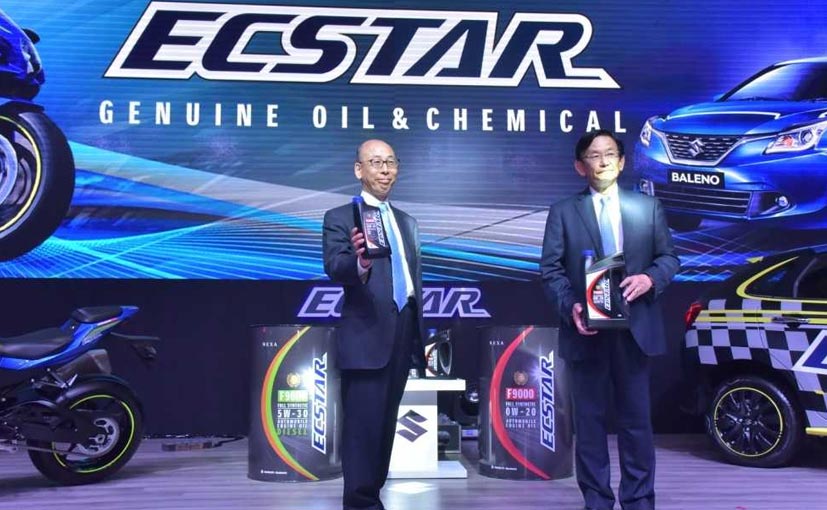 Highlights
Maruti will offer Ecstar to its customers at the Nexa Service workshops
It will also be available at authorized Suzuki dealerships
Prices of these engine oils are in the same range as others in the market
Maruti Suzuki launched Ecstar, Suzuki's global brand of lubricants, coolant and car care products in India. Initially, the company will offer Ecstar to its customers at the Nexa Service workshops, while progressively, it will be offered at Maruti's service network of over 3,000 workshops across India. It is also designed for Suzuki motorcycles' engines that offer an improvement on the normal engine oil. Ecstar is a brand of high-performance engine oil and coolant and chemical products, launched by Suzuki Motor Corporation in 1984.
Also Read: Maruti Suzuki Alto 800 Utsav Edition Launched
Kenichi Ayukawa, MD & CEO, Maruti Suzuki India said, "On our journey of transformation we have been bringing a range of new models and technologies. To ensure optimum performance of these new technologies we are now bringing a range of Suzuki global engine oils and lubricants. These products have undergone rigorous testing under extreme conditions. They offer great peace of mind to customers."
Satoshi Uchida, MD, SMIPL said, "It is our constant effort to offer customers innovative and evolved products that allow them to derive superior experiences from their Suzuki motorcycles. ECSTAR oil from Suzuki is a powerful lubricant that not only enhances the enactment of its vehicles, but with its optimal lubricant formulation, will offer customers outstanding engine protection, a longer life-cycle for their two-wheeler as well as lower maintenance and fuel costs. ECSTAR oil ensures durability and better performance even in unfavorable riding conditions like uneven roads, extreme weather conditions, combustion contaminants etc."
According to the company, the blend of high performance synthetic base oil additives contributes to Ecstar's engine performance. The engine oil has the optimal formulation for lubrication and a cooling effect, to ensure the cars deliver the highest level of performance.
The Ecstar R9000 (10W40), which can be used for all Gixxer models as well as Hayabusa, GSX-R1000 and GSX-R1000R, will be available at the authorized Suzuki dealerships with subsequent plans to expand the reach and portfolio.
Maruti claims that Ecstar has passed rigorous tests that contribute to a superior performance by up to 2.8 per cent and fuel economy by up to 3.5 per cent. These include high speed and full power tests (to evaluate oil performance under high shear and high thermal load conditions); deposit test (to evaluate influence of deposits formed on various engine parts) and friction test and brake specific fuel consumption or BSFC mapping (to measure friction loss behavior and efficiency improvement).
The range of Ecstar products will be procured from select local suppliers here. These suppliers will undergo stringent tests to qualify their products to be included under Ecstar umbrella. To begin with, the range of Ecstar products includes Injector cleaner, automatic transmission oil; underbody coat and screen wash for the cars. More products will be added to the Ecstar range in India at a later stage.
In 2015, Suzuki promoted Ecstar as a global brand of high quality products. At present, the Ecstar brand is available in Europe, America, Mexico, Australia and South East Asia.
["Source-ndtv"]