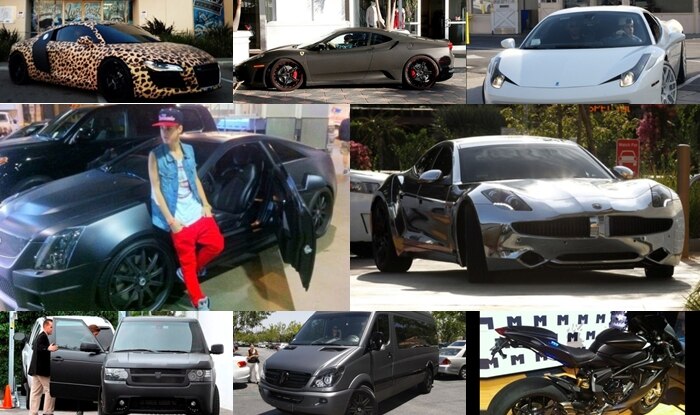 Justin Bieber, a popular Canadian pop singer and actor is one of the most renowned celebrities across the globe. This pop sensation is not only popular for his music tracks but also for his love for cars and bikes. This exotic car and bike collection includes Cadillac CTS-V Coupe, Ferrari 458 Italia, Porsche 997 Turbo, MV Agusta F3 and much more. This young pop sensation will be performing in India today at D.Y. Patil Stadium in Mumbai, Maharashtra. Proffering a perfect chance for the fans to witness his performing live at the concert, Justin well might surprise everyone by bringing his convoy of special cars as he is known for his stylish entries to his concerts. Also See: Happy Birthday Sachin Tendulkar: Master Blaster and his car collection
Customised Cadillac CTS-V Coupe: Justin Bieber is known for its exotic list of cars of which Customised Cadillac CTS-V Coupe is the most priced possessions. This customized car is also known as batmobile which comes with matte black bodywork as well as all-black cabin space with premium leather interiors. Powered by a 6.2-litre V8 engine, the customized CTS-V Coupe comes with suicide doors.
Customised Range Rover: Another exotic car owned by Justin Bieber includes Customised Range Rover SUV with matte black as well as complete black interior space. Under the hood, the SUV comes powered by a 5.0-litre supercharged V8 engine.
Customised Fisker Karma: The Canadian singer and songwriter also own a customised Fisker Karma which is basically a premium plug-in electric luxury sports sedan that is quite popular among Hollywood celebrities. Powered by a with a 2-litre turbocharged Ecotec engine, the sports sedan can produce 161hp of max power with the help of 120 kW electric motor.


Customised Ferrari F430: Justin Bieber's love for exotic cars is quite popular across the globe. His exotic car collection also includes a customised Ferrari F430 which comes in matte black. Justin bought himself this Ferrari F430 when he turned 16 which is the legal age for driving cars in US.
Ferrari 458 Italia: The Canadian pop singer also owns another Ferrari in his garage which is 458 Italia that flaunts white paint scheme with blue paint on the calipers and company logos. This sports car comes equipped with a 4.8-litre V8 engine.
Lamborghini Aventador: The supercar collection of Justin Bieber is incomplete without Lamborghini Aventador coupe. And he owns this one too with white in colour. Unlike other sports cars in Justin's garage, this Aventador doesn't sport any major customization
[Source"timesofindia"]