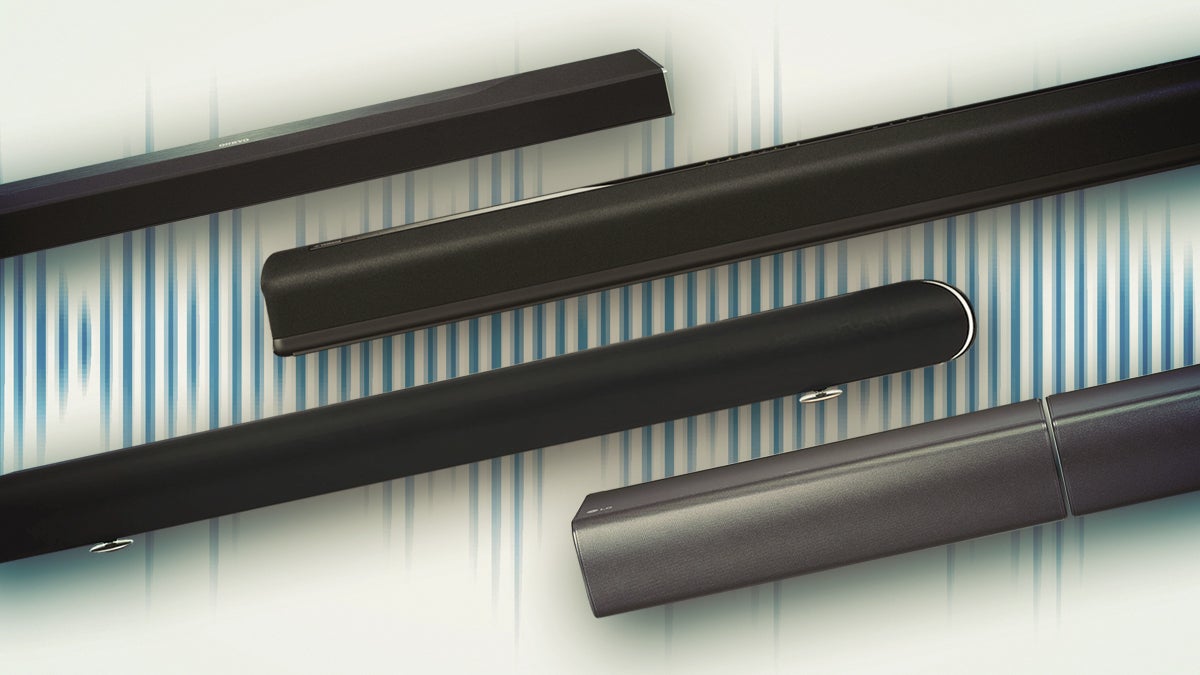 +
Technology has enabled TVs to become ever flatter, thinner, and lighter, but it can't overcome the laws of physics when it comes to audio. Filling a room with sound requires substantial speakers that can move a lot of air, and those types of speakers just won't fit inside a thin TV chassis. That's where soundbars come in.
We'll explain all the latest soundbar technology, show you the most important features you should look for, and name our top picks in budget, mid-range, and high-end categories. We'll also provide links to all our reviews of soundbars currently on the market, so you can find exactly the right one for your needs.
Here are our current top picks, with brief summaries explaining our reasoning. These will change over time as new models come in for evaluation. Our soundbar reviews will go into some depth, so we encourage you to follow the links to read them in their entirety. Beneath our top picks you'll find some general guidance about soundbars, followed by explanations of the features you should consider when choosing one. Links at the bottom of the page will take you the rest of our soundbar reviews.
TABLE OF CONTENTS
Best budget soundbar: Yamaha YAS-106
Budget-priced runner-up: Samsung HW-M450
Best mid-range soundbar: JBL SB 450
Mid-range runner-up: Zvox SB500
Best high-end soundbar: Yamaha YAS-706
SHOW MORE 
Best budget soundbar: Yamaha YAS-106
The feature list for the Yamaha YAS-106 is shorter than many, and you won't find a subwoofer in the box, but you won't be disappointed with this soundbar's performance. If you're looking for a significant upgrade over your TVs current audio that won't break the bank then Yamaha's YAS-106 is an easy choice. Yamaha recently discontinued this model, replacing it with the YAS-107. We'll have a review of that model soon, but many retailers still have YAS-106 in their inventories. This could be a good time to find a great bargain.
Budget-priced runner-up: Samsung HW-M450
This slim-profile soundbar and wireless subwoofer combo's all-around performance caught our attention, but it's unusually rich feature set made this our easy choice for runner-up. The HW-M450 supports additional wireless speakers for a full wireless 5.1-channel surround sound, and you can connect the soundbar to compatible TVs via Bluetooth for an entirelywireless setup. It's hard to believe you get all this at an entry-level price point.
Best mid-range soundbar: JBL SB 450
Our top pick for best mid-priced soundbar is JBL's SB 450. This soundbar and wireless subwoofer tandem packs a one-two sonic wallop. It also features some enhanced Bluetooth streaming options with certain model JBL Bluetooth speakers that differentiate it from the pack. If creating a theater experience at home is your primary goal, then you'll be incredibly satisfied with this package.
[Source"cnbc"]