Beautifully Redesigned, All-New Today, Games and Apps Tabs Packed with Original Stories and Editorial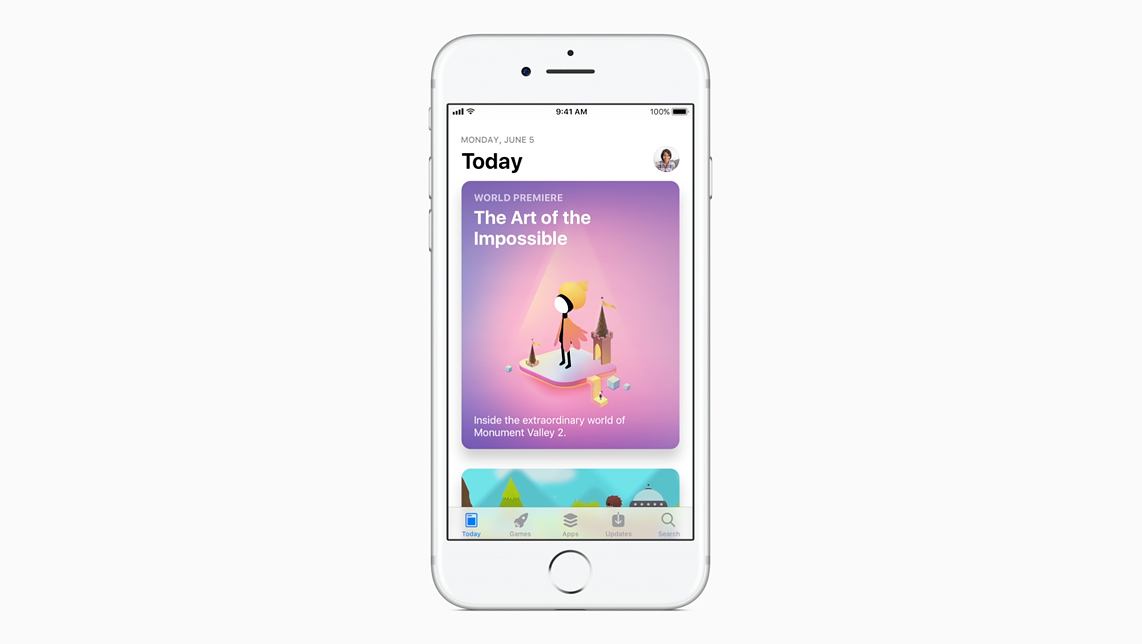 The beautifully redesigned App Store is packed with original stories, updated daily in a new Today tab. It also features new Games and Apps tabs.
San Jose, California — Apple today unveiled the all-new App Store, designed from the ground up to make discovering apps and games easier than ever before. The beautifully redesigned App Store is packed with original stories and editorial, updated daily in a new Today tab, as well as new Games and Apps tabs. Compelling stories, in-depth interviews, helpful tips and collections of must-have apps and games will showcase Apple's unique perspective and aim to inform, help and inspire customers every day. App Store customers have now downloaded more than 180 billion apps and Apple has paid out over $70 billion to developers since the store launched in 2008, making it the most vibrant software marketplace in the world.
"Together with our incredible developer community, we've made the App Store the best app platform in the world, and more than 500 million unique customers visit it every week," said Philip Schiller, Apple's senior vice president of Worldwide Marketing. "Now, we are taking everything we've learned from the App Store over the past nine years and putting it into a stunning new design. Every element of the new App Store is richer, more beautiful and more engaging."
It all starts with the Today tab, a daily destination all about games, apps and app culture. Through in-depth features and interviews filled with beautiful artwork and videos, the App Store's global team of editors will share the stories behind the apps and games that change the way we live and the developers whose ideas push and shape the world as we know it. Today will feature exclusive premieres, new releases and a fresh look at all-time favorites, as well as recommended tips and how-to guides to help customers use apps in innovative ways.